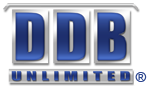 DDB Unlimited
Membership Info
- Associate Member - Silver

Contact Info
Street Address
2301 South HWY 77
Pauls Valley, OK 73075
Products
Broadband Infrastructure

Buildings and Shelters

Enclosures

Enclosures (Cont'd)

- Switchgear Enclosures

- Transformer Enclosures

Substation Equipment
|
Brands
About Us
DDB Unlimited is a premier NEMA enclosure/cabinet manufacturer. We are offering standard and custom enclosure solutions for industrial markets around the globe. Our large inventory allows for quick lead times, and our engineering department offers the ability to create custom designed cabinets to meet specific needs.
DDB Unlimited manufactures cabinets used in Broadband, FTTH and utilities. Most of our products are in stock greatly reducing lead times. We believe the electric cooperatives need our cabinets and service.
American Made, American Strong - DDB Unlimited.
<! div class="main-ad-box" -->