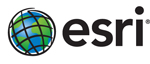 Esri
Membership Info
- Associate Member - Silver

Contact Info
Email:
KCressman@esri.com
Phone: 909-793-2853
Keith Cressman
Sales Manager, Small & Mid-Tier Utilities
Street Address
380 New York Street
Redlands, CA 92373
Key Contacts
Geovanny Solera
Account Manager – SMB Utilities
Phone: 704 541 9810 x8604
Email: GSolera@esri.com
Products
Asset Management

Information Technology

Information Technology (Cont'd)

- Mapping, AM/FM/GIS

Software Application Providers
|
Brands
About Us
Location powers the co-op of the future. Esri enables co-ops to use the power of location to save time, lower costs, and satisfy members. ArcGIS technology delivers powerful tools that help manage, update, and analyze information about members, network assets, work orders and more. The ArcGIS platform can be deployed in every organization from an individual desktop to a service-oriented architecture (SOA) and a globally distributed network. Use, make, and share maps from any device, anywhere, anytime. Esri developed the ArcGIS Data Model for MultiSpeak, a ready-to-use geodatabase template that conforms to the latest release of the widely used, industry-standard MultiSpeak specification.
<! div class="main-ad-box" -->