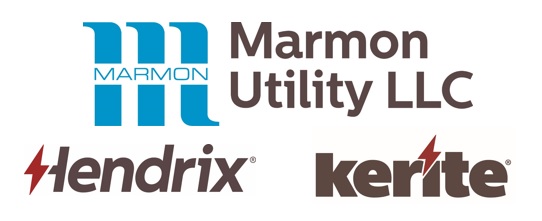 Marmon Utility, LLC
Membership Info
- Associate Member - Gold

Contact Info
Street Address
53 Old Wilton Rd
Milford, NH 03055
Other Branches
Key Contacts
Products
Cables and Wires

Consulting

- Engineering Consulting & System Design

Trailers

Wildlife Protection Equipment
|
Brands
Power Cable - Hendrix / Kerite

Hendrix Aerial Cable Systems

Hendrix Molded Products

Kerite Cable Services
About Us
Marmon Utility is the parent company of Hendrix & Kerite. Providing the T&D industry reliable cable for over 150 years, respectively. 
Hendrix offers Aerial Cable Systems (15kV to 69kV), underground Medium Voltage cable (5kV-46kV) along with Molded Insulator Products.
Kerite offers Medium & High Voltage cable (5kV to 138kV) along with Cable Services.
Together, Hendrix & Kerite offer not just cable, but the expertise in solving unique & common installation issues that arise within the overall project planning. Our experience from cable design, application design & on site installation surpasses industry requirements.
<! div class="main-ad-box" -->