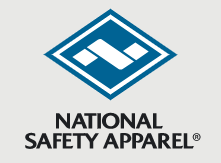 National Safety Apparel
Membership Info
- Associate Member - Gold

Contact Info
Email:
dsiders@thinknsa.com
Phone: 302-353-0043
Toll Free: 800-553-0672
Duane Siders
Chief Revenue Officer
Street Address
15825 Industrial Pkwy
Cleveland, OH 44135
Products
Safety

- Safety Equipment and Inspection Services

- Safety Training & Education

Safety (Cont'd)

- Uniforms and Protective Clothing

Tools
|
Brands
About Us
National Safety Apparel has been a market leader for 75 years in the design and manufacture of high-quality, USA-made, personal protective clothing and safety apparel. 
We are dedicated to one critical mission: Protecting America's utility, manufacturing, and steel workers in the field and our armed forces on the battlefield.
Innovation isn't just our tagline. We create and customize safety products and solutions that meet the demands of the industries we proudly serve. We are committed to our customers by providing quality products with responsive service and delivery, aligning with the values of USA, union-made safety apparel.
<! div class="main-ad-box" -->