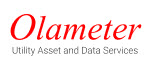 Olameter
Membership Info
- Associate Member - Silver

Contact Info
Email:
tkowdys@olameter.com
Phone: 800-903-7003
Fax: (905)841-1288
Tim Kowdys
Chief Marketing Officer
Street Address
1150 Crews Road, Ste 1
Matthews, NC 28105
Products
Billing/Financial

- Billing Services

Information Technology

- Meter Data Management (MDM)

Metering

Metering (Cont'd)

- Meter Reading Services

Mobile Workforce Management Systems

Poles

- Pole Inspection and Treatment
|
Brands
About Us
Over 250 distribution utilities in the United States and Canada rely on Olameter to manage or monitor key assets, and to process critical data. Olameter's clients include electric, gas, water, sewer, and street lighting utilities, as well as telecom carriers. Olameter solutions include; Meter Reading, Meter Services, Mass Meter Installations, Underground Locating, Leak Detection, Pole Testing/Audits, TelDig OneCall/Ticket Management, Data Collection/Settlement/MDMA, Web Presentment, Billing, Call Center, Document Fulfillment and consulting services.
<! div class="main-ad-box" -->