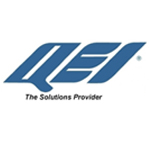 QEI, LLC
Membership Info
- Associate Member - Silver

Contact Info
Debbie Machacek
Assistant to President
Phone: 973-379-7400
Fax: 973-379-2138
Email:
dmachacek@qeiinc.com
Street Address
45 Fadem Road
Springfield, NJ 07081
Products
Cables and Wires

Consulting

- Systems Integration

Controls and Instrumentation

Cooperative Business Relationships

Distribution Automation

Distributors and Manufacturing Representatives

Enclosures

- Switchgear Enclosures

Engineering Software

Information Technology

- Mapping, AM/FM/GIS

- Outage Management Software & Systems

- SCADA Systems

Load Management

Substation Equipment

Wastewater Treatment
|
Brands
About Us
QEI has been providing industry solutions for over 60 years.  Serving the Electric, Transit, Renewable and Water/Wastewater Utilities, QEI is a leading SCADA & Automation equipment supplier with the engineering, manufacturing, training and service personnel to support each customer's requirements from inception to completion.  Our Substation Gateways, Capacitor Controllers, RTUs, complete SCADA Systems, and turn-key engineering solutions can provide the anchor for your place on the Smart Grid.
<! div class="main-ad-box" -->