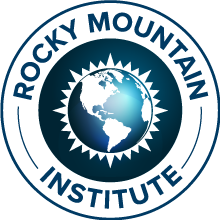 Rocky Mountain Institute
Membership Info
- Associate Member - Silver

Contact Info
Street Address
2490 Junction Pl Suite 200
Boulder, CO 80301
Other Branches
Products
Consulting

- Engineering Consulting & System Design

- Management Consulting Services

Energy Storage

Renewable Energy (all types)
|
Brands
About Us
Rocky Mountain Institute's non-profit Shine Program helps electric co-ops to procure distribution-scale solar.
Shine has helped co-ops in Colorado, Texas, New Mexico, and North Carolina. We have helped Otero EC realize a 4.5 cent/kWh price for a 3 MW project completed in 2017. We have helped 6 Colorado co-ops receive prices between 4-5 cents/kWh for 1 MW systems. In Texas, we are helping Bluebonnet EC and CoServ to procure solar and storage. 
Our vision is that every co-op in the United States can sign solar deals that save money. 
We help co-ops by: 
1. Modeling the economic value of solar. 
2. Publishing an RFP to leading national and local developers.
3. Guiding buyers to succesfully sign PPAs.
<! div class="main-ad-box" -->