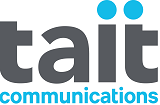 Tait Communications
Membership Info
- Associate Member - Silver

Contact Info
Email:
daniel.draughn@taitradio.com
Phone: 1-281-829-3300
Toll Free: 1-800-320-4037
Fax: 1-281-829-3320
Daniel Draughn
Director Market Development Critical Industries
Street Address
15354 Park Row Drive
Houston, TX 77084
Other Branches
Key Contacts
Products
Broadband Infrastructure

Distribution Automation

Emergency Restoration Services

- Infrastructure Restoration

Information Technology

- Automatic Vehicle Location (AVL)

- Computer Hardware and Software

- SCADA Systems

Metering

- AMI/AMR

- Meter Reading Services

Telecommunications

Transmission & Distribution Systems

- Broadband Infrastructure

Wireless Communication
|
Brands
About Us
With 50 years' experience in radio, Tait is passionate about the future of critical communications. Technology is always changing, we solve problems with innovative, customer-focused thinking. This passion is how and why we deliver, robust, fit-for-purpose products, exceptional customer service, and world class communication system performance.
Our solutions include DMR Tier 2&3, P25 P1&2, conventional, and the software to manage and monitor those radio networks. As utility wireless safety and performance requirements continue to expand, you can trust Tait to unify these diverse technologies to deliver reliable critical communication solutions like LTE, dispatch, AVL, SCADA, and many more.
<! div class="main-ad-box" -->